ULI Toronto - How Transit is Shaping Developments in the GTA
Examining Intensification Projects in Toronto, Markham and Mississauga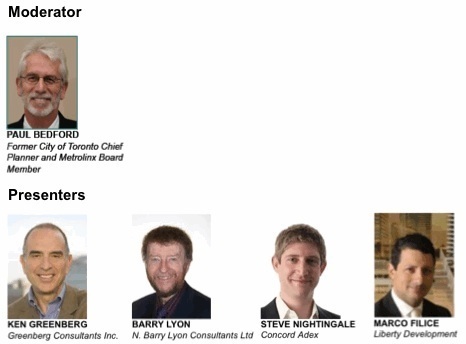 One of the greatest challenges facing an increasingly urbanized Greater Toronto Area (GTA) is the transformation of our traditional bedroom communities into functional cities. A key component of this transformational process is transit infrastructure. Please join us for an evening with some of Toronto's leading experts as they speak on the ways transit is shaping development in the GTA.
Paul Bedford, former City of Toronto Chief Planner and Metrolinx Board Member, will provide an introduction and an overview of Metrolinx and its regional transit strategies. Next, our discussion will focus on the development plans of three GTA projects and the challenges and opportunities that are common to city building initiatives.
These three projects will be relevant to 416 and 905 attendees.
1. Mississauga Downtown 2021 - Tying the suburban network together through Rapid Bus Transit in Mississauga
2. Park Place - Intensification along the existing Sheppard subway line in North Toronto
3. World on Yonge - Planning for the future, creating a development on the extension of the planned Yonge Street subway line in Markham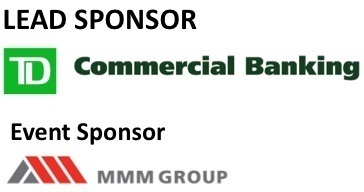 Location
THE NOVOTEL HOTEL
3 Park Home Avenue
On Yonge Street at Mel Lastman Square
(North York Centre Subway Station)
Agenda
5:30pm - 6:00pm Registration and Networking
6:00pm - 7:00pm Presentations
7:00pm - 7:20pm Moderated Q&A Session
7:20pm - 7:30pm Audience Questions and Wrap Up
Costs
$45 ULI Members
$30 Public (Members/Non Members)
$70 Non Members
$30 Young Leaders (ULI Members under 35)
LAST DAY TO REGISTER ONLINE
MONDAY MARCH 7, 2011

OAA(Ontario Association of Architects)
CREDIT APPROVED - 2 SELF DIRECTED HOURS
Registration required for credits please email toronto@uli.org
Private Member: $200 (US)
Public Member: $150 (US)
Young Leader Member: $160 (US)