ULI Toronto - Fireside Chat with Peter Sharpe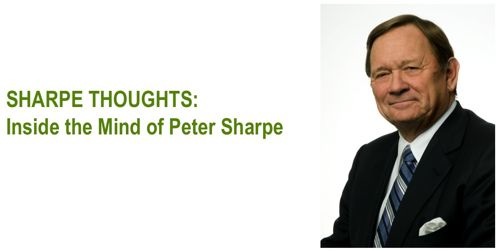 "Formerly of Cadillac Fairview and now of everywhere" was the attention-grabbing introduction from John O'Brian, vice chairman of CBRE, when he sat down with longtime friend and fellow real estate veteran, Peter Sharpe, at the summer ULI Fireside chat on June 19th.
The conversation touched on key people and experiences that influenced Mr. Sharpe's career. While best known as the president and CEO of Cadillac Fairview from 2000 to 2010, Mr. Sharpe was asked to start his story at the beginning.
Born in Winnipeg, he grew up in a northern Toronto neighbourhood and attended Kilcoo Camp where he began to learn about managing people and that, as he says, "you develop leadership by osmosis, no one teaches you."
Upon graduation from Waterloo Lutheran University (now Wilfred Laurier University), Mr. Sharpe began a career in public relations and soon moved into a role as property representative with Marathon where he was lured more by a bigger paycheck coupled with an "I can do that" attitude. Here he experienced a "meteoric rise" eventually running their entire Ontario portfolio.
After Marathon came York Hanover, where he was involved in a range of retail and hospitality products. The position heightened his appreciation for connecting "building something, renting it, getting income, and paying salaries".
Subsequently, a year's hiatus from the business world was spent in Ottawa as part of Joe Clarke's staff in the Prime Minister's Office. A lifetime of connections was made, playing an important role in Mr. Sharpe's success. "Political contacts kept popping up all through my career and a couple of times they turned out to be very helpful," he says. Politics did not captivate Mr. Sharpe and with the fall of Clarke's minority government Mr. Sharpe returned to the real estate world.
Joining Fitnam, Mr. Sharpe managed the Hudson Bay Centre and soon all of their Canadian real estate including apartments in Calgary, Montréal, Edmonton and small offices in Toronto and Montréal. It was from this role that he was recruited by Cadillac Fairview.
The 1970s an1980s were all about larger than life personalities in Toronto and Winton's Restaurant was the meeting ground. Mr. Sharpe reflected warmly on time spent with colleagues and mentors such as Joe Barnicke, a "networker supreme" who "always had time for guys in the front line."
Retail responds quickest to a downturn, there were lessons learned and strategies developed to manage the tough times of the 1990s. These were times that taught him "about being honest and open and frank with people, but also how to listen."
Turning to more recent lessons, Mr. Sharpe described how Cadillac Fairview spent considerable time looking for foreign investment opportunities in emerging markets. Without the essential governance elements – democracy, land titles, and a court system you could depend on – China was never a market worth pursuing for Mr. Sharpe. "There will be a day when Cadillac and others should be in China but as of right now, no one is making money there."
After considering multiple partnerships, Cadillac Fairview chose a Brazilian firm who had "skin in the game and who knew the market on the ground there." Today the organization has about $500 million worth of construction underway. Through business expansion in Brazil, Mr. Sharpe grew to enjoy the climate and culture and purchased a vacation home there. When asked about his Portuguese language skills, Mr. Sharpe described that he "can order dinner and drinks and get home."
The conversation moved to contemporary environmental considerations in the real estate world. Mr. Sharpe believes that there comes a point where you have to reinvest in an asset that has "treated you well for years." Major tenants want to be able to say that they're in an environmentally responsible building but these are big decision because millions of dollars are at stake, as was the case with the recent recladding and retrofitting of the Toronto-Dominion Centre, a decision two years in the making.
Imparting final thoughts for young professionals in the industry, Mr. Sharpe emphasized the importance of relationships and always treating people with honesty and respect. Describing how building relationships and demonstrating respect is where integrity is born, Mr. Sharpe reminded the audience, "at the end of the day, all you have is your reputation."
Brett Howell
Page + Steele / IBI Group Architects
ULI Toronto Programs Committee
Tessa Forest
Page + Steele / IBI Group Architects
ULI Toronto Communications Committee
Location
The Toronto Board of Trade
First Canadian Place
(Bay & Adelaide Street Entrance, 4th Floor)
Agenda
5:30pm - 6:00pm Registration and Networking
6:00pm - 7:15pm Discussion
7:25pm - 7:30pm Audience Questions and Wrap Up
Costs
$45 ULI Members
$30 Public Sector (Members/Non Members)
$70 Non Members
$30 Young Leaders (ULI Members under 35)
Last Day To Register June 15th 2012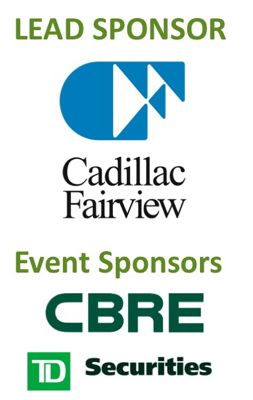 Speaker
Peter Sharpe
Former CEO, Cadillac Fairview Corporation Limited