ULI Toronto - Tour of the Sony Centre for the Perfoming Arts - SOLD OUT
EVENT IS NOW SOLD OUT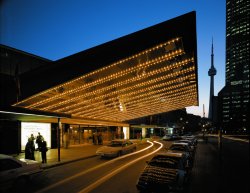 ULI's YLG members and guests are being invited to join Alfredo Romano, Principal, Castlepoint Realty Group, and Dan Brambilla, Chief Executive Officer, Sony Centre for the Performing Arts, on an exclusive tour of Toronto's newly renovated and revitalized theatre centre.
Originally opening in the 1960's as O'Keefe Centre and more recently known as The Hummingbird Centre, Sony Centre for the Performing Arts is the largest multi-use facility in Canada, featuring everything from ballet and opera, to rock concerts and Broadway musicals.
Please join us in discovering the key partnerships and creative approaches in a development that were accomplished to restore the grandeur of the original O'Keefe Centre while bringing it into the 21st Century.
LOCATION
The Sony Centre For The Performing Arts
1 Front Street East
Toronto, ON
M5E 1B2
Young Leaders Group Sponsor 2010 / 2011

COSTS
$20 Non Members
FREE Young Leaders (ULI Members under 35)